"Foals are so cute—especially thoroughbreds. They want to run the day they're born. It's part of their life. We've got a huge pasture. We stall them at night, especially if it's really cold. Then in the morning, we turn them out and they race. They see who can get the heck to the end of the pasture first. They take off out of the barn and they don't stop. First one gets the choice of the feed bucket they want."
Tom Luxton turns 81 in 2018, but he's only recently developed his special relationship with horses. He and his wife both grew up "farm kids"—he in South Dakota, she in Minnesota—and their families kept work horses. Now, it's a different world. Things changed about seven years ago.
"A friend asked if we wanted part ownership, a very small percentage of a racing horse…. She had some really good races. We didn't make any money, but went to the track and kinda got bitten by the bug. After the first year, we got out, but the feeling was still there. Then I was laid up from work with an infection. My wife said 'let's get out and look at stables.' The minute we drove into the driveway here, I said 'this is going to be the place.'"
The Luxtons' Minnesota home farm has six stalls and a French-style house on ten acres. They made improvements, and that included buying horses.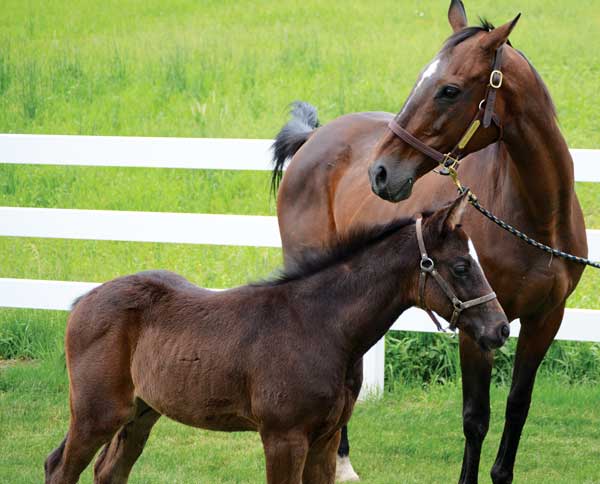 "We got one horse, Song of Summer; Donna, as in Donna Summer, is her stable name. We didn't realize when we got her that she was pregnant, mid-July/August," Tom continues. "In January, we were looking to have a little one, and took her to a foaling stable. The manager there named her Sassy because she's got an attitude." Sassy is now in Arizona, running track for the rest of the 2018 season, stabled along with Goldie and Prince, who is the only boy (jockey name You've Got the Look, another pop music reference).
As needed, the Luxtons send mares to their Minneapolis foaling barn. The balance of their horses reside at the home farm. "That's where we use Aspen Gold," Tom says.
Commitment

Tom feels a true commitment to his horses. "From the day they're born 'til they die, they're part of the family," he said. "They love. They remember me and know my scent. They recognize me." There's an even deeper connection between the horses and the women at the farm, and Tom's absolutely fine with that. "Karen (Tom's wife), Amber (who works in the stables), and Amber's little girl, Emma—the horses love them. We've got a horse that we call Major—she has a major attitude. Spacey, she's another one. Those two horses stand there and let little Emma rub them and put her arms around them. They understand love and they show it back," he explains.
With that bond comes a sense of abiding loyalty. One of their Arizona horses, Pumpkin, passed away suddenly in December 2017 at only two years of age. Tom pauses before he comments on the loss of Pumpkin. "It was pretty traumatic, and it still is. We had her cremated. Come spring, we'll bury her ashes at the farm. You do become attached to them."
Every day brings satisfaction to the Luxton farm. Tom says even passersby notice that it's a special place, and horses make it that way. "We live on a gravel road, out in the country. The first thing people see when they come over the hill is our white three-rail fence. It looks like the horse pastures in Kentucky. Many drivers just stop. And then they watch the horses, especially the little ones, run."
---
As published in EquineMonthly, April 2018 issue. Learn more about Aspen Gold.